Straight, well-aligned teeth are more than just cosmetic.
Orthodontics may be one of the best investments you make.
Straight teeth not only help you achieve more confidence in your smile but also make your teeth easier to care for than crooked or overlapped teeth. Orthodontics provides a safe and relatively noninvasive way to accomplish straighter teeth.
Orthodontics encompasses more than just braces. With modern dental technology, there are numerous options available that allow us to help our patients achieve the smile of their dreams. Orthodontics can be especially helpful for children whose mouths are rapidly developing and growing. By addressing misalignment and structural concerns at an early age, we can resolve many common concerns easier, and usually less invasively, than might be possible after the patient reaches adulthood.
Schedule an evaluation with us so we can help you understand your options and figure out what treatment is right for you.
Forget what you knew about braces.
With Invisalign, straightening your teeth has never been easier.
Using a series of clear, removable aligners, Invisalign gradually moves your teeth toward optimal alignment, providing you with a virtually invisible solution for crooked teeth. Not only is Invisalign invisible, but it's also comfortable to wear and easy to live with. During Invisalign treatment, you visit our dental team every four to six weeks to assess your progress and get new aligners. When you're home, you can continue to eat your favorite foods, brush, and floss as normal since you can remove the aligners as needed. Invisalign has revolutionized the path to straighter teeth, and we can't wait to discuss whether it's the right option for you.
Orthodontics can transform your life through
Long-lasting
results
Healthy facial
structure
Improved oral
habits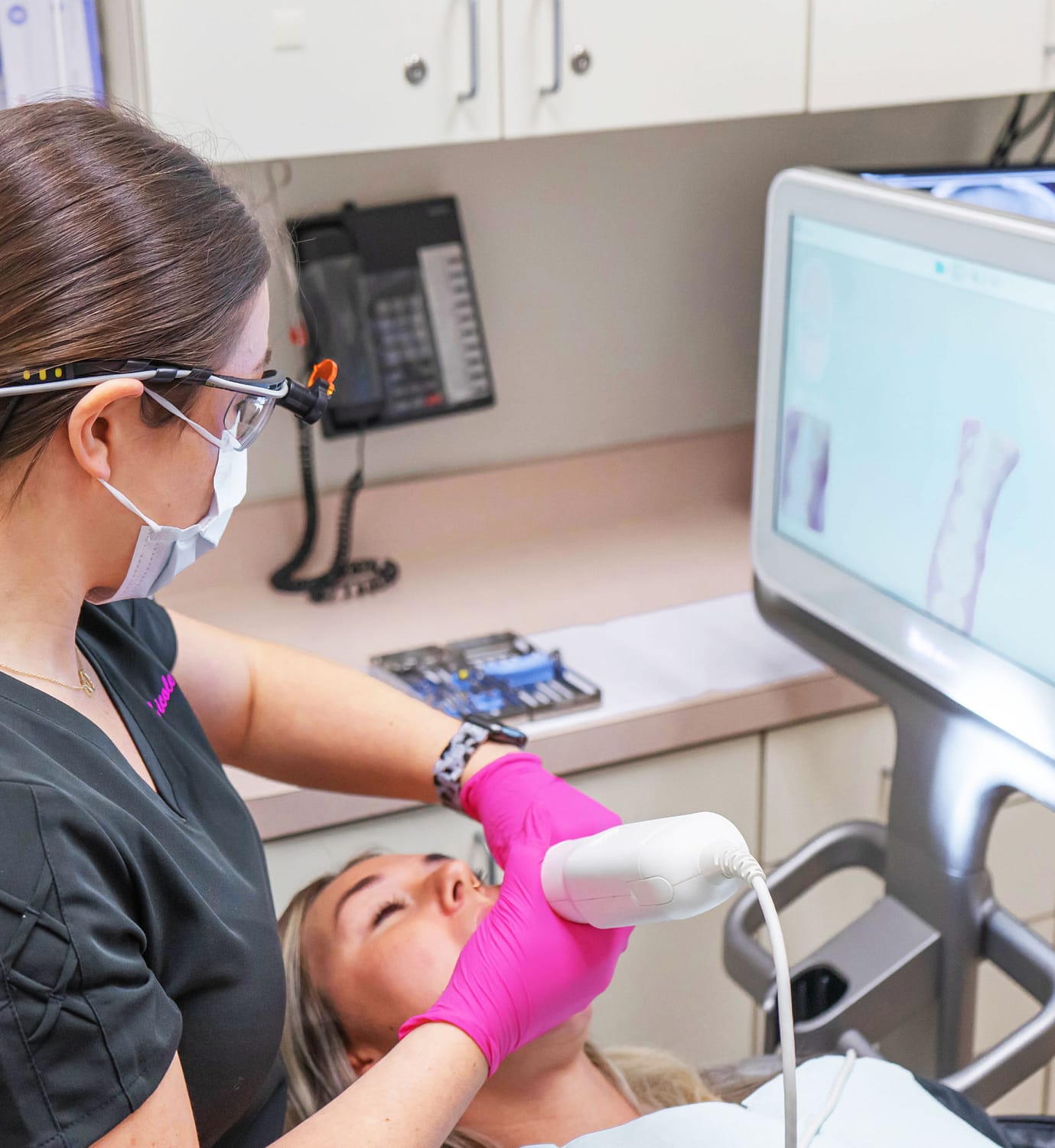 Early childhood is a critical time for oral health.
Myobrace can set your child up for success.
As children grow and begin getting their permanent teeth, the mouth can become crowded and the jaws misaligned. Poor habits, such as mouth breathing, incorrect lip and tongue function, and other factors may contribute to this misalignment. If not corrected early, these concerns can lead to the need for more complex orthodontic treatment in the future.
Myobrace provides a no-braces approach to straightening a child's teeth and correcting poor oral habits in children, leading to improved facial development. The Myobrace system is a series of removable dental appliances that your child will wear for one to two hours each day and overnight while sleeping. The Myobrace encourages correct swallowing, breathing patterns, tongue position, and more.
Misaligned teeth can stop you from living your life.
With braces, perfect alignment is possible.
While many patients may prefer Invisalign, there's still a time and a place for conventional braces. Braces can tackle more complex cases than its alternatives. This may help you achieve a better alignment than would be possible with another treatment option. Whatever the reason, our team will meet with you to discuss what braces can do for you.
Jaw alignment is critical to overall health and well-being.
With palatal and mandibular expanders, a perfect smile is possible.
Sometimes one's upper or lower jaw develops in a way that isn't perfectly aligned for their overall facial structure. An upper or lower jaw that's too small can lead to a crossbite, crowding, or impacted teeth. These concerns become evident in childhood, during which time the use of expanders can be beneficial. Palatal and mandibular expanders work to create more space in the jaw and shift the teeth, respectively, resolving overcrowding while a child's mouth is still developing. Addressing crowding concerns at this stage can help set your child up for a healthy future.
Achieving proper alignment is one thing; maintaining it is another.
Retainers provide reinforcement to maintain proper shape.
Orthodontic work can create amazing changes for your mouth and jaw alignment. But those changes need to be reinforced over time so your teeth don't shift back into their old positions. Retainers fill that role. A retainer is a custom-made removable appliance that helps keep your teeth in their new positions so that you can enjoy your beautiful new smile for years to come.
Mouth and jaw alignment is key to a healthy smile.
A dentofacial orthopedic device to suit your needs is only an appointment away.
Orthodontics is a field that is constantly improving, and our team is staying on top of it all. If you or your child has a concern about the position and dimensions of the bones around your mouth, get in touch. We're happy to discuss what options make the most sense for you and your family so that you can get back to living your lives without worrying about your oral health.
Great dental care is useless if no one can afford it.
At King Dental, accessibility is one of our core values. We know that health care costs can be expensive, and we'll do everything we can to help. Our office accepts all forms of insurance, most credit cards, and CareCredit. We also offer in-house payment plans. If finances are a concern, get in touch with us today, and we can walk you through your options.