A Dental Home You Can Rely On
With a team you can trust for all of your general dentistry needs.
At King Dental, we're committed to making dental care the best experience possible by ensuring that all of our patients feel at ease and leveraging the latest technology to resolve your dental needs as quickly, professionally, and comfortably as possible.
With over 38 years of clinical dental experience, our office has the experience and skills to meet the general dental needs of the whole family. From routine checkups to root canals and oral cancer screenings, we'll help you not only improve but also maintain your oral health.
Gum disease can impact more than just your gums.
Periodontal therapy can restore your oral health.
Throughout the course of our lives, many of us develop some form of gum disease. In its earlier stage, also known as gingivitis, this may just mean your gums feel swollen, appear red, or bleed easily. If left untreated, gum disease can progress, requiring more complex treatment to prevent tooth loss and reinforce the gums and bones. Regular dental checkups and professional cleanings help prevent periodontal disease, but they don't necessarily eliminate any chance a patient has of developing it. When that happens, our team takes swift action to treat the concern as gently and noninvasively as possible. We use dental lasers to improve the comfort of our periodontal treatments to stop gum disease in its tracks and get you back to smiling bright.
General dentistry helps you
Diagnose & treat dental concerns
Maintain oral
health
Feel confident in
your smile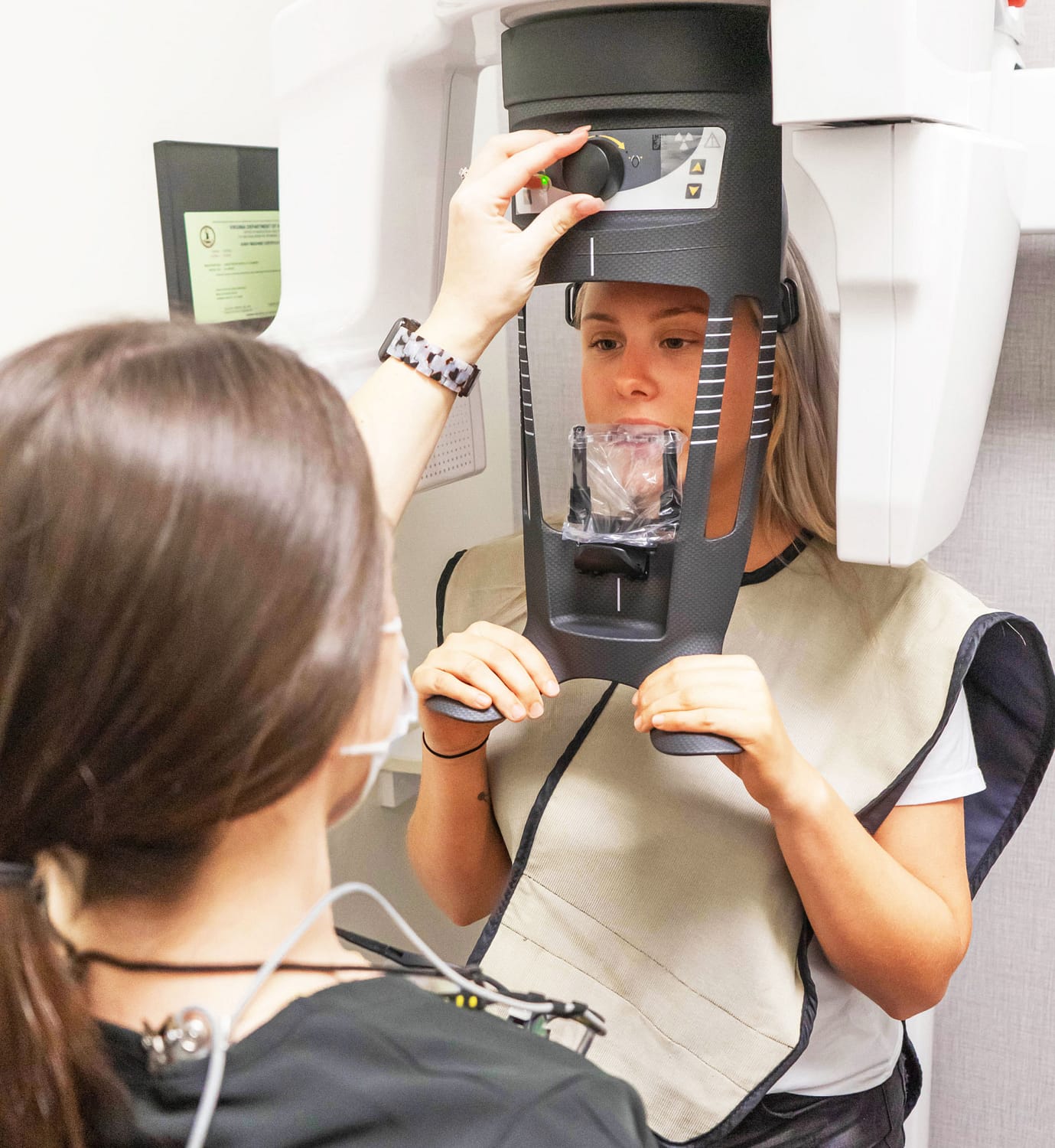 Impacted wisdom teeth can threaten the health of your mouth.
Luckily, wisdom teeth removal can maintain your smile.
By the time we're 13 or 14, most of us have the majority of our permanent teeth. The last of these are our wisdom teeth, which begin pushing their way through the gums in our later teen years. Wisdom teeth that are healthy and properly positioned can be a complement to your existing smile, but for many, one or more of the wisdom teeth may become trapped under the gums or be crowded out by other permanent teeth, risking damage to the healthy teeth nearby.
During regular checkups, Dr. King monitors the progress and positioning of wisdom teeth in our young patients. If X-rays and evaluations reveal that the wisdom teeth may be growing in a way that risks complications, we will meet with you and your family to discuss the early removal of these impacted teeth to minimize discomfort and protect your oral health.
Tooth decay can disrupt your life.
But a root canal can help.
Infections, deep cavities, and trauma can damage the nerve chamber inside your tooth. This experience is painful for many, and if left untreated, it can lead to further damage. A root canal addresses the problem at the source by clearing out the inflamed tissues inside the tooth and cleaning the canals. With just a couple of visits, our team can diagnose and treat a damaged tooth using local anesthesia to minimize discomfort. We then complete the restoration by covering the tooth with a crown when necessary. With the bacteria removed and infection cleared, patients can go back to living their lives without the stress or discomfort of a damaged tooth.
Nonrestorable teeth shouldn't be ignored.
Dental extractions bring quick relief.
At King Dental, we focus on making dental care comfortable, so we'll always recommend the least-invasive treatment possible for your situation. However, sometimes we may recommend a tooth be removed due to crowding in the mouth or decay that is too deep to restore. If that's the case, we'll work with you to understand your options and help you get your smile healthy, beautiful, and bright again in no time.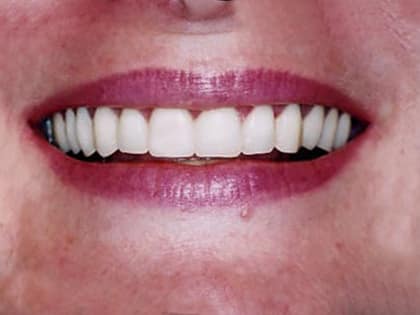 Chances are, you'll get a cavity someday.
Fillings provide a quick, comfortable way to stop the damage before it escalates.
When harmful bacteria attacks and erodes the tooth enamel, it creates a small hole, or cavity, in the tooth. Cavities are one of the most common dental issues that people encounter in their lifetimes. While good dental hygiene can significantly lower your risk of getting a cavity, other uncontrollable factors, like genetics, may also play a role.
Luckily, tooth-colored fillings provide a natural-looking solution to stop this bacteria in its tracks before it compromises the whole tooth. Today, getting a filling is easier than ever! Our team is trained in the latest technology and techniques to make sure you a comfortable experience.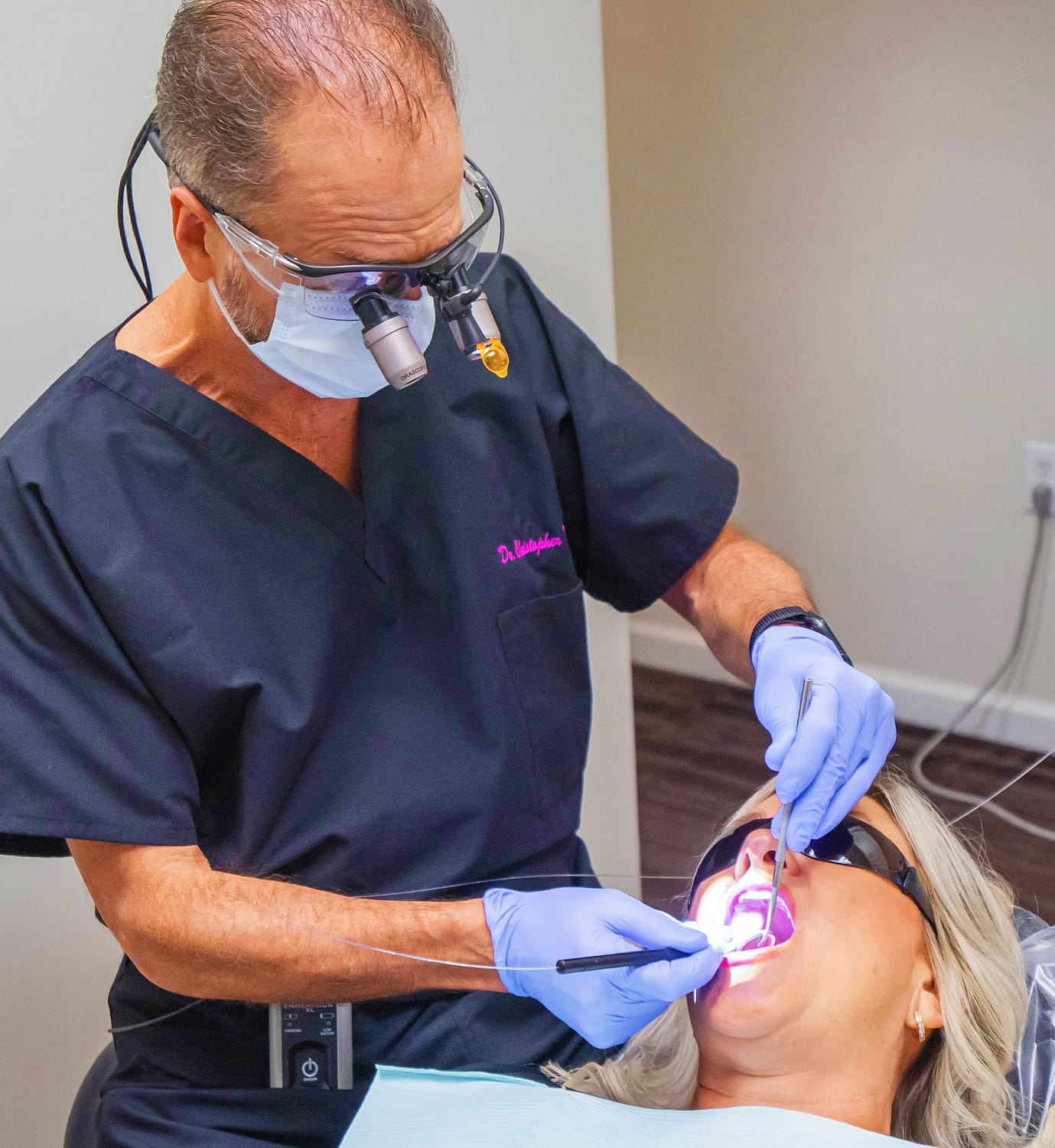 When it comes to cancer, early detection is key.
Oral cancer screenings can help identify potential mouth cancer before it advances to a more serious stage.
At King Dental, we provide oral cancer screenings to our patients as part of our general dentistry practice. An oral cancer screening is simple! Our dental team will thoroughly inspect the inside of your mouth, checking for red or white patches or mouth sores. We'll also feel the tissues in your mouth to check for lumps and other abnormalities. If we detect anything suspicious during the screening, we'll discuss next steps and what additional tests may be necessary to get you on the path to diagnosis and treatment as soon as possible.
Tooth damage can come from chronic teeth grinding.
Nightguards protect your teeth, helping to improve your well-being.
Do you wake up with jaw or neck pain, increased tooth sensitivity, or a dull headache? If so, you may be grinding your teeth at night. Teeth grinding often doesn't become obvious until complications develop that can affect the quality of your sleep, your oral health, and your overall well-being. At King Dental, we can help you understand whether you are grinding your teeth and, if necessary, fit you with a nociceptive trigeminal inhibition (NTI) nightguard. Unlike traditional nightguards, an NTI appliance only covers the front teeth while you sleep, providing a more comfortable solution for chronic grinding and clenching.
Don't let stress or anxiety get in the way of your oral health.
Sedation is available for almost all operative treatments.
At King Dental, our top priority is your comfort and health. We don't want anyone to avoid necessary dental treatments for fear of the procedure. That's why we offer IV sedation for many of our services. This is a quick, safe method that typically only takes minutes to administer, allowing patients to be asleep for their procedures.
Great dental care is useless if no one can afford it.
At King Dental, accessibility is one of our core values. We know that health care costs can be expensive, and we'll do everything we can to help. Our office accepts all forms of insurance, most credit cards, and CareCredit. We also offer in-house payment plans. If finances are a concern, get in touch with us today, and we can walk you through your options.